­­The Human Paintings
The English artist Edward Povey is interested in exploring complicated emotions that have their roots in his own life.
In the 1970s a Persian refugee came to lodge at his studio, then situated in a Welsh mining village. She became a kindly aunt to his family, but could never sleep because her brother was still imprisoned in Iran, so through those long snowy nights Povey would sing to her, walking her to rest through her fears.
Only later did he notice the poetic and cherishing quality of that experience: a young English artist serenading a troubled dark-eyed Middle Eastern woman through the winter night. For forty years he gathered the techniques and ingredients for a collection of paintings on the subject.
In the National Gallery of Art in London Povey studied Raphael's Ansidei Madonna Altarpiece, whose flesh appears achingly vulnerable. He could easily imagine his compassionate lute player and wearied woman painted in Raphael's way, those hands and fragile features looking so exposed, as if they would easily bleed.
In 1505 Raphael formed the skin in simple greens and grays, only to float a blood-colored glaze over it, bringing warmth and transparency to the nose, ears and fingers, and a ghost of internal blood around the joints of the body. Even the bones that drew near to the surface of the skin were glazed with a film of delicate lemon, and veins were heightened with translucent indigo-gray.
Povey used this Early Renaissance method and then deliberately contrasted it with a robust Modernist design that compressed the perspective of the scene, tipping up the table tops and crockery so that we see it from two quite distinct vantage points like Cezanne's Mont Sainte-Victoire paintings. Similarly the man's jacket presents an unaltering block of dark chocolate brown, providing a tonal foundation that we willingly accept as black in the painting. Povey had found that jacket in the wall-sized drawings of an artist with whom he roomed in Canada, where he worked as a lone immigrant in his youth.
The realistic-looking (but entirely invented) lute is often skewed and intentionally distorted; and the ironed table cloth and crockery came from Povey's childhood dining table in war-torn London.
Those perplexing nights became a paradox of tenderness and tension in Povey, the tea cups forgotten on the bedside table in a draught of the snowy streets outside. The softly defenseless skin set into a robust Cubist perspective – giving us a balance between vitality and vulnerability.
ARTWORK
Please click thumbnail below to see full image.
2019 - An interview of Povey detailing his extraordinary life and career, as commissioned by the British National Library (equivalent to the US Library of Congress). The project is "For Walls Have Tongues" and is the first in a series of video interviews. The videos will be preserved in the National Library's archives, which documents national treasures for the British public.
The Edward Povey Collection of paintings and Povey's the Hall of Illusion mural, Powys Hall, are featured in a recent publication by the University of Wales, Bangor, UK. This publication highlights the 100 most important works in the University's extensive collection, dating back to the University's inception in 1884.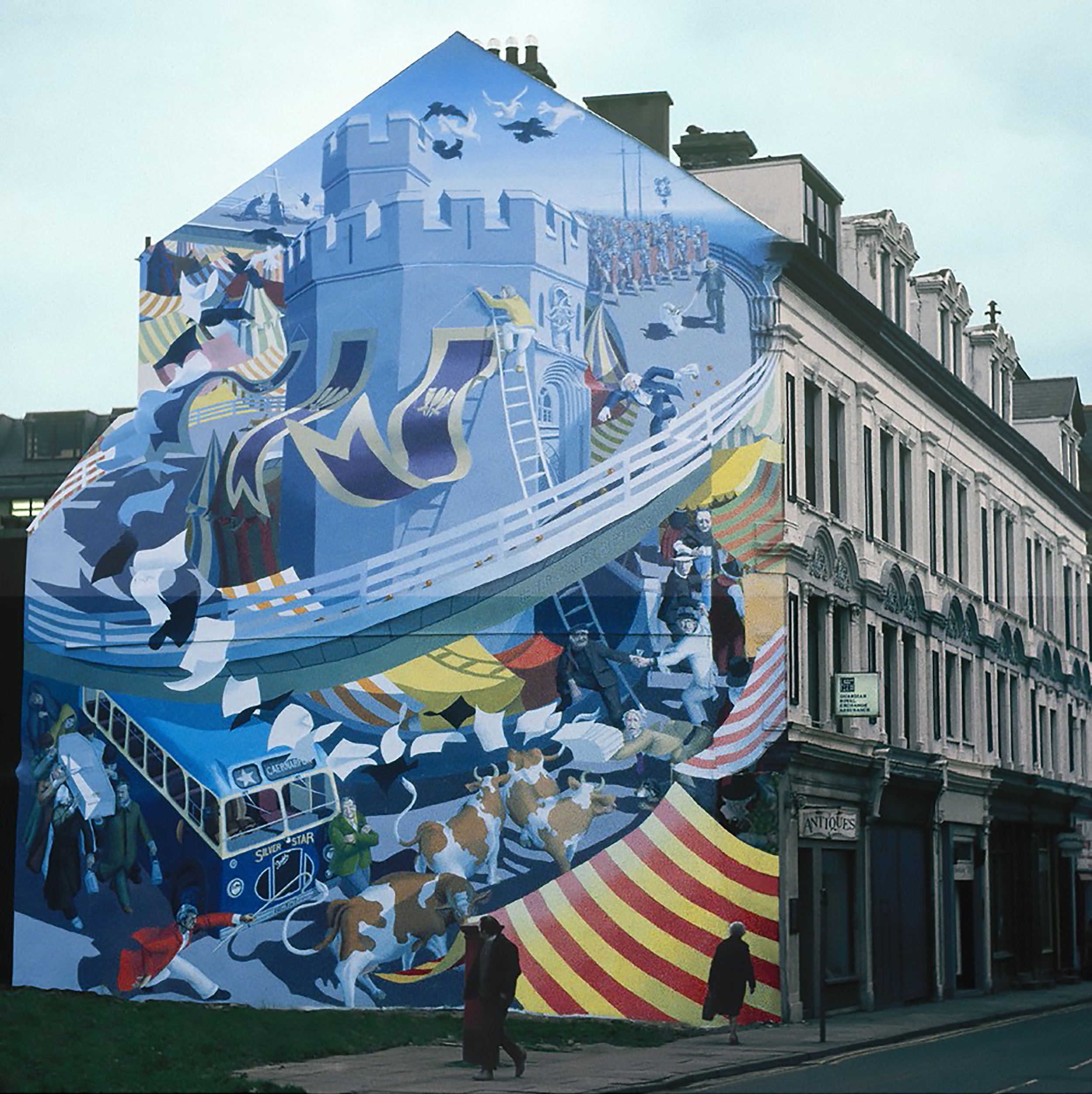 Povey is interviewed via Skype for a BBC WALES, S4C television program, in which he is asked about proposed plans for a restoration of his iconic Caernarfon, Wales mural HELTER SKELTER.
Povey and his American artistic partner, Tolar Schultz, were honored to be asked for their 2016 collection of paintings to be included as artworks in the inaugural white paper, Global Initiative on Ethics of Autonomous and Intelligent Systems.
Ethically Aligned Design represents the collective input of over one hundred global thought leaders in the fields of Artificial Intelligence, ethics, philosophy, and policy from the realms of academia, science, and the government and corporate sectors.